The children at Art on Parade learn and experiment with a variety of mediums. These include working with watercolour, oil pastels, sketching with pencil and charcoal and craft topics.
Working with the local communities, students will be able to work on various events such us Remembrance Day, Christmas, Mother's Day, Easter and local projects.
We are proud to say that our children take part in local art and environmental competitions and have had 7 winners to date.
The cost of a lesson is £12 and £6 for the Piccolo class. Fees have to be paid in advance each half term.
Lessons are differentiated to suit the individual.
As a member of the Chislehurst Business Group, we give away an art pack to all new students that enrol to the club (worth £15) – when they show they are members of the Chislehurst Society.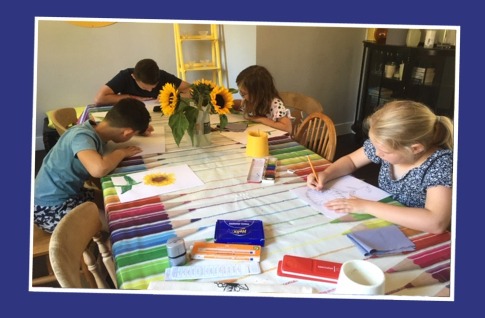 I have never had a lesson that I didn't like.
James
Art on Parade has been the best thing we have done for our son, it gives him a wonderful channel to express himself in such a positive and creative way, especially in this digital world. It has really given him confidence in himself and a whole new opportunity to be mindful and creative. Nicola is kind, passionate and dedicated to each and every child, noticing and nurturing their talents and individuality. The children have regular opportunities to showcase their art and take great pride in doing so.
Amy S
Our son has loved drawing and all things artistic since he was a toddler and we looked for sometime to find a class where he could express himself and grow his love of art, so we were thrilled to discover Art on Parade! Nicky's genuine care for the children and also her love of art is a perfect combination for our son to thrive in something he loves and he looks forward to his class every week.
David W
Our daughter loves art club, highlight of her week,  so glad we found something so local, friendly and professional that she can enjoy and learn from…
Gb
My daughter absolutely loves Nicky's art club!
Jessica T
My daughter loves art and loves the class. It's a fun environment to learn and she enjoys the variety of materials and projects. A great addition to Chislehurst!
Susy
Every Saturday Morning 'Art on Parade' brought Ada & Albert alive.
The sounds of the children laughing and enjoying themselves created such a warm feeling inside our shop.
We loved having them there!
Amy Pullen