Art on Parade is a new inclusive children's art club giving children the chance to to creative.
The children at Art on Parade learn and experiment with a variety of mediums.  These include working with watercolours, oil pastels, sketching with pencil, charcoal and craft topics.
The children also have lessons on perspective and fun life drawings.
Lessons are differentiated to suit the individual.  Guidance is given to help applicants put portfolios together for selective schools, colleges and universities.
Click here to book and reserve your child's place and find out more.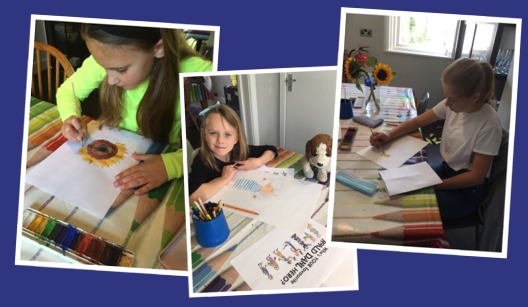 Nicky Russo is the founder of Art on Parade. She is a Higher Level Teaching Assistant and has worked in schools for the past 26 years in both the state and independent sectors. Nicky has also worked as a fashion stylist and run three small businesses of homemade cupcakes, sugared almond favours and flower arranging.
Before that Nicky worked as a Commercial Section Manager for Marks & Spencer for 21 years and during her time there was also a Visual Merchandiser. She has run thriving art clubs at the school in which she currently works, and these have been very popular amongst the pupils there.
Nicky has an up-to-date First Aid qualification and also has an Enhanced DBS and Safeguarding certificates too. She has attended extensive art courses by Creative Education in Central London about teaching the subject and how to get the best out of the more able student.
She has taught Art to KS1 & KS2 children in Years 2, 3, 4, 5 & 6 at Babington House and has run the after-school fashion clubs for both Senior and Prep pupils. Nicky has links with Chislehurst's Royal Gallery, Dulwich Picture Gallery, Fired Up Pottery Studio in Petts Wood, Central St Martins University and the London College of Fashion, where she did her training.
Nicky Russo
Member of Bromley Arts Council
"As parents and guardians we push our children academically and quite rightly so, but we need to engage their creativity too. Art on Parade is my new, exciting and fun art club. We let children be children and allow them to explore, experiment and believe in their own individual artistic talent."
Nicky
About Royal Parade
"Royal Parade is a Parade of shops in Chislehurst.  We are a small community of independent shops supporting and working closely together.  Our notice board allows us to keep the residents and visitors up to date with information and events taking place.  This has also become a showcase thanks to the children of Art On Parade who create amazing displays for the notice board guided by Nicky.  At times like Christmas, Easter, Mothers Day and Fathers Day we are treated to their wonderful take of each event, and this is then displayed in our board for everyone to see over a couple of weeks.  The feedback has been amazing and the pleasure they get knowing their artwork is on display is pure joy on their faces.  As a Parade we thank them for their time and hard work and long may they continue to  want to do this."
Karen
Secretary
Royal Parade Traders Association
"The Chislehurst Society is pleased to see the work from Art on Parade and very much appreciate the children's art contribution to our information kiosk on Royal Parade.  The club regularly features their work in our competitions and activities and we were proud to display their drawings in our recent calendars.  It's a delight to see our environment captured graphically and enhanced by the projects the students put together."
Joanna Friel
Chairman
The Chislehurst Society